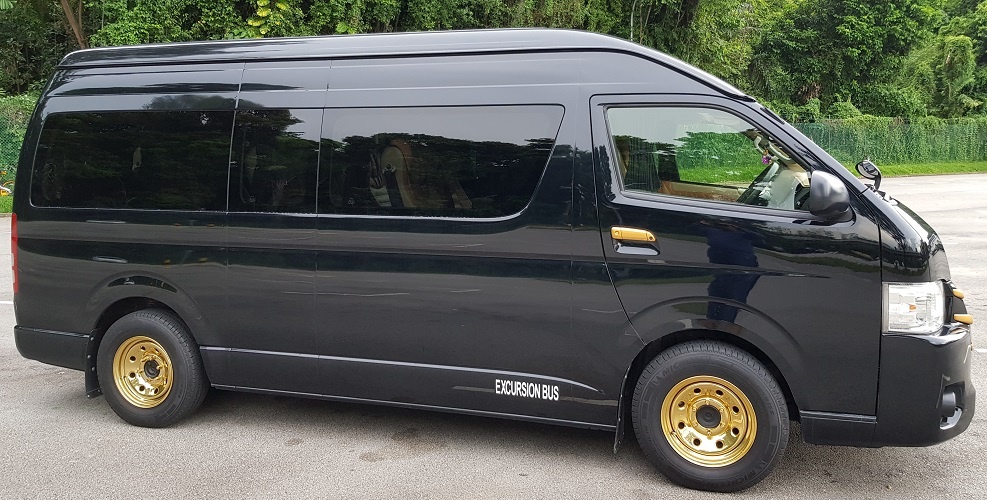 MINIBUS 13 SEATER
---
For 13 seater minibus bookings, we use Toyota Hiace Commuter High Roof. It is a version which has a higher roof thus making it more spacious and less constricted. Passengers will be able to move around in the minibus van with ease. If you have irrational fear of confined spaces, do not worry! This minibus van has spacious accommodation. Children especially will feel at ease travelling in it.
This minibus van also has amazing capacity. It has all the space you may need for travel. Suitable for those who have a lot of luggage. The rear compartment can fit up to 10 x 28″ luggage while accommodating 9 passengers. Without luggage, the minibus van can seat up to 13 passengers comfortably.
The minibus 13 seater van can also be used for transporting bulky items that normally cannot fit in a conventional car. It is a popular choice of transport for those travelling with their bicycles. Customers have booked our minibuses for cycling competitions and events in Singapore. Knowing that your cycling equipment and bicycle are being transported safely, you can sit back and relax your mind for the upcoming race.
An excellent booking option for large family or excursion group travelling together. Travelling together in a group is so much fun. Imagine sightseeing and travelling together with your loved ones. Not only it is fun, travelling together is also less hassle and efficient. You need not wait for one another thus saving precious time for other productive activities.
Other than one way transfer, the minibus or van is also available for hourly and daily charter booking. If you have multiple places to go or going somewhere out of place, booking by hourly or daily charter would be the recommended choice of service.
If you want something different, you can consider our other options.
---
SEATING CAPACITY
13 PASSENGERS
LUGGAGE CAPACITY
10 x 28″ LUGGAGE
WITH 9 PASSENGERS
ONE WAY TRANSFER
$75
ARRIVAL
(AIRPORT / CRUISE)
$85
HOURLY CHARTER
(3 HOURS)
$225 ($75 PER HOUR)
DAILY CHARTER
(10 HOURS)
$700 ($70 PER HOUR)
---
---